Android Engineer (Kotlin)
We are searching for a new colleague with Android skills to help us achieve great mobile applications!
Our promise
You choose how you'll work with us: fully remote, hybrid, or at our offices (Bucharest, Brașov)
We support your career growth through continuous learning, coaching, and mentorship programs
We promise you a feedback-driven culture that inspires healthy communication
A friendly, professional, and supportive team is waiting for his new teammate
A bunch of people with common hobbies and interests (sailing, football, running marathons, tennis, music, etc) is ready to welcome you
A community driven by courage and creativity (we have our own beer and our own band that sings about us) is challenging you to have serious fun with us
We designed benefits that give you the power to create balance in life, on and off work
As an Android Developer, you must have:
2+ years Android development experience (Kotlin)
Solid knowledge of OOP
Solid understanding of data structures and algorithm fundamentals
Experience working with GIT source control
Working with design files in Adobe Photoshop/XD
Experience publishing apps in Google Play Store
Experience working with third-party libraries and APIs
Excellent ability to develop and understand algorithms
Experience with Kotlin flows using StateFlow / SharedFlow
Nice to have:
3+ years of Kotlin development experience
Flutter development experience
Architecture Components experience
Bachelor's degree in computer science, engineering, math or relevant fields
Experience writing unit tests
Knowledge of architecture patterns (MVVM, MVP or MVI)
Ideally the candidate should have some Jetpack Compose experience and should be comfortable working with unidirectional data flow architecture


What you will do:
Participate in a team-oriented environment to develop medium to complex native mobile applications 
Follow industry best practices
Understand client requirements & functional specifications
Research and implement new tools and technologies
Constantly improve the application architecture, performance, and security
Collaborate with the project team members
Share technical knowledge with the team
If you feel this role is for you, let us get to know you better! There are 2 steps left:
A get-to-know HR Discussion with your recruiter
A final tale with your future technical colleagues


Department

Software Development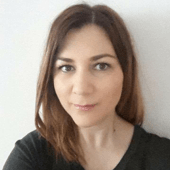 Contact
Iulia Domsa
Talent Acquisition Adviser – Talent Xperience
Android Engineer (Kotlin)
We are searching for a new colleague with Android skills to help us achieve great mobile applications!
Loading application form